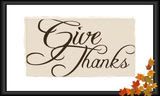 As we come to the end of Thanksgiving I hope everyone had a wonderful day!
I have so much to be thankful for. I can't possibly name all of the blessings that I have been given. I can give you a basic run down...
I am thankful for:
my Lord and Saviour, Jesus Christ
my husband and daughter
my mom and dad
my sister, brother, in-laws, nieces & nephews
our health
our nation
a roof over our head
food on our table
and much, much more
Hubby, pumpkin & I went to my parents for our Thanksgiving celebration. My sister, her four kiddos, mom, dad and a friend of my niece were all included in the feeding frenzy festivities. However, the family wasn't totally "whole". Missing today were my brother-in-law (who stayed at home to entertain his family in from NJ), brother, sister-in-law and my 1 year old niece (they were in TN to be with my sister-in-laws parents).
So, I add "spending a love filled Thanksgiving with family" to my ever growing list of "things I'm thankful for".
~ God Bless ~