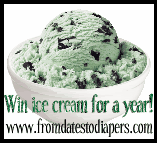 Christine at From Dates to Diapers was asked by Blue Bunny® to host a June summer giveaway! Four winners (1 a week) will win free ice cream for a year!
Yes, you read that correctly, the winners can pick a carton of Blue Bunny® ice cream and a Blue Bunny® novelty pack, each month for an entire calendar year!
Head over there and see how to enter!