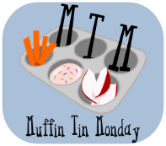 Muffin Tin Monday is a weekly blog gathering (at
Her Cup Overfloweth
) of mommies who serve one meal a week (or more:) ) in a muffin tin!
My mom babysits my 22 month old niece Janie! While I was over at my parents one day I thought I'd fix Janie her very first MTM. Needless to say it was a huge hit!
No theme this week!
Janie had her MTM on the swing set.
I had to go with what was on hand at my parents, as usual there were plenty of leftovers.
Going left to right! Top row: green beans, mac & cheese, cubed roast beef Bottom row: mashed potatoes, corn, goldfish crackers.
Janie loved her very first MTM, and her make shift picnic table!
As usual, this was so much fun!
Make sure to stop by and check out all the wonderful muffin tins
here
(or maybe join us)!