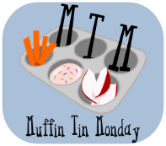 Muffin Tin Monday is a weekly blog gathering at
Michelle at Muffin Tin Mom
of mommies who serve one meal a week, or more, in a muffin tin!
Left to right - top row: Goblin fingers & blood (carrots sticks & mustard with food coloring), witches hair & hat (dyed ramen noodles and butter toasted witch hat); candy corn cheese (cheddar cheese, mustard at the base, hot pepper cheese at the point)
Left to right - bottom row: monster ribs & bone marrow (celery sticks & p-nut butter), jack-o-lantern grilled cheese, troll flesh (beef jerky), candy bats scattered around.
Next weeks theme is Trees, Leaves, and Harvest.
Make sure to stop by and check out all the wonderful muffin tins
here
(or maybe join us)!