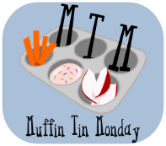 Muffin Tin Monday is a weekly blog gathering at
Michelle at Muffin Tin Mom
of mommies who serve one meal a week, or more, in a muffin tin!
Left to right - top row: Grilled Cheese Swirls, Yogurt with sprinkles, crinkle cut string cheese.
Left to right - bottom row: sausage, tatertots, carrots.
This week there wasn't a theme for our MTM, so this is just a random one.
Make sure to stop by and check out all the wonderful muffin tins
here
(or maybe join us)!