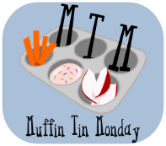 Muffin Tin Monday is a weekly blog gathering at
Michelle at Muffin Tin Mom
of mommies who serve one meal a week, or more, in a muffin tin.
Left to right - top row: raw veggies (cauliflower; broccoli; red, green, yellow & orange peppers); goldfish crackers; dill pickle stackers.
Left to right - bottom row: mac & cheese; hotdogs & string cheese kebobs; cooked carrot coins
Next weeks theme is The Food Pyramid/Nutrition.
Make sure to stop by and check out all the wonderful muffin tins
here
(or maybe join us)!